Wax Repair Kit
Repair kit for damaged laminated and wooden surfaces, such as laminate and parquet floors and furniture. For repairing damaged areas, including deep scratches, cracks, splits, holes gaps and dents.

The melting device makes it easy to melt the hard wax bar onto the damaged surface. Use the correct colour bar of hard wax or make your own colour by mixing the colour bars of hard wax.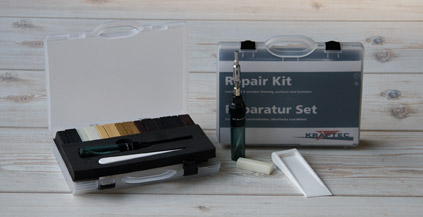 For laminated and wooden surfaces
Available in many wood shades
Colours can be mixed
Non shrinking
Quick drying
Safe to use - water based
Available in handy blister packs or in small cases.
Each kit contains: 1 x torch with hot knife, 1 x spatula, 1 x pad and 7 colours of wax.
Available colours


previous page